Representatives of five housing related associations and five political parties will be meeting Sunday for the National Housing Debate.
The event, at the Westin Hotel in Ottawa, will include the Canadian Real Estate Association, the Canadian Housing and Renewal Association, the Canadian Alliance to End Homelessness, the Canadian Home Builders' Association, and the Co-operative Housing Federation of Canada.
Joining them will be five participants from their respective political parties:
Liberal Party of Canada – Adam Vaughan, Spadina-Fort York (Ontario)
Conservative Party of Canada – Pierre Poilievre, Carleton (Ontario)
New Democratic Party of Canada – Angella MacEwen, Ottawa West-Nepean (Ontario)
Bloc Quebecois – Geneviève Nadeau, Gatineau (Quebec)
Green Party of Canada – Angela Keller-Herzog, Ottawa Centre (Ontario)
Moderated by La Presse Bureau Chief Joel-Denis Bellavance, Canadian Press journalist Jordan Press and Toronto Star columnist Heather Scoffield, it will cover a wide range of issues related to housing and home affordability in Canada.
Questions will be from the moderators as well as from a live audience.
Housing has become a key campaign topic for the federal election with the major parties recently setting out their plans to improve affordability and supply.
We're partnering with @CHRA_ACHRU, @CAEHomelessness, @CHBANational and @CHFCanada to host the "National Housing Debate" as part of #CREAPAC19 on October 6. To register, visit: https://bddy.me/2nRuVnH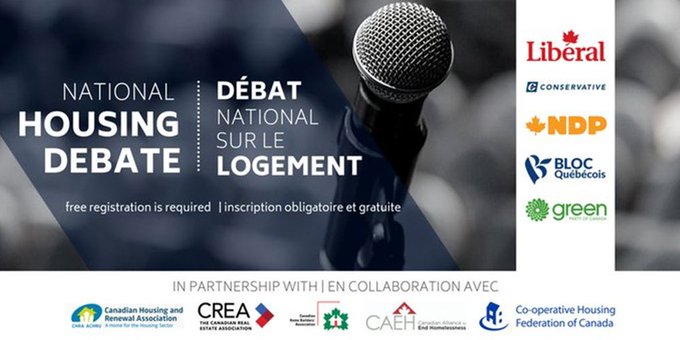 156:23 PM – Sep 27, 2019Twitter Ads info and privacySee CREA | ACI's other Tweets